Our story began in 1978 when Jimmy & Pauline Butler bought a small indoor pig farm in in North East Suffolk.  Over the years, whilst raising their two sons, Stuart and Alastair, they switched their focus from just growing pigs to the way in which pigs were farmed leading them to become pioneers in free range pig farming on a larger scale.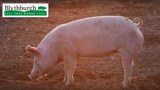 The Life of a Blythburgh Pig
Research shows that very few people, butchers and chefs included, understand how much free range pig farming differs from the more conventional pig farming systems commonly used today. Confusion has understandably been caused due to the diverse range of British pig farming systems all vying for consumers' attention. It is safe to say that most talk about improving animal welfare and whilst such improvements are commendable just improving something is not often enough. In many cases the word 'outdoors' is used to give consumers the perception of a free range life when in truth it is still very intensive and there are also plenty of examples of farm names or brands being used on pork just to make it sound special. At Blythburgh it's simple, our pigs are truly free range, it's our mission to give our pigs a life worth living and we think that's worth shouting about!
The People behind the Pork
The Butler family have a vision to establish a pig farm that consistently delivers pork excellence.  They believe to get the best pork you need to put the pig first, but in order to do that you need to be the right kind of people with the right core values.
Make sure your Pork is Blythburgh Free Range
Did you know that less than 3% of the pigs farmed in Britain are genuinely free range…  It has never been more meaningful to know where your meat comes from and it is important for your own peace of mind that you can trust the pork you are sold is in fact free range.